The Forex Cargo Balikbayan Box Agents
Read the rest of this entry »
Forex Cargo Agents
Wonder who those guys are going over to your house to pick up your Forex cargo boxes ? Well those good looking guys are your Forex Cargo agents. These agents visit 5 to 8 houses on average each day to pick up balikbayan boxes.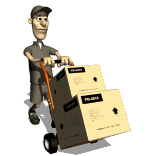 Being a Forex cargo agent is not easy. Imagine hauling several balikbayan boxes weighing 50 to 90 lbs (on average) each, spending most of the day on the road under the scorching heat of California sun.
But there are also many upside to being a Forex cargo agent. The chance to touch base with our fellow kababayans, the opportunity to meet and make new friends, the kwentuhans and of course the fulfillment you get from helping Nanay and Tatay pack their balikbayan boxes for their loved ones in the Philippines.
So the next time you need your balikbayan boxes picked up, just give these dependable Forex cargo agents a call.
Call your Forex Cargo agent today at (323)449-5468